Valley Luxury Partners is excited to welcome Jasmine Ramirez, our new special contributor, to the team. A journalist at heart, Jasmine's career as a news reporter moved her across the country to Arizona just over one year ago. She's a Kansas City native and attended the University of Missouri School of Journalism. Jasmine has worked as a multimedia journalist for news stations and spent a summer at an international news agency in Europe. Her passion for writing has spilled into other projects, and she has become a valuable asset in our marketing endeavors. Jasmine interviewed Robert Altshuler, founder and lead agent of Valley Luxury Partners, about the dated luxury home dilemma that's become a topic of conversation in the luxury real estate market.
For context, a "dated" home hasn't undergone many renovations to bring it up to speed with new design trends. These homes are typically more than 20 years old and lack the impressive appeal, refreshed ambiance and refined beauty of new luxury builds. An example of a dated home would be one located in Paradise Valley, Arizona that was built in the late 1980s to mid 1990s; one that has not been updated or remodeled to reflect new trends in design and construction but sits on an attractive large lot with views. Architectural styles popular in the early 2000s such as Tuscan or Santa Barbara are also reminiscent of dated homes. While a dated luxury home has worthy selling potential, it's accompanied with a dilemma. The problem truly comes front and center when sellers put a dated home on the market. Jasmine and Robert will walk you through the dated luxury home dilemma and discuss how you can make well-informed decisions when choosing to move forward.
J: Can you tell us more about the dated luxury home dilemma?
R: We are working with sellers who are inquiring about selling properties that are dated relative to new construction. Homes built in the 1980s through the mid-1990s represent a quarter of active and sold luxury listings. Sellers of these homes are receiving approximately 90% of their original asking price at the time of sale versus 94% for more current inventory. Inventory of smaller, competitively priced properties under $2 million has been depleted resulting in larger, higher-priced homes facing greater competition from newer updated properties. Luxury homes priced over $3 million that are lacking a distinct advantage such as large lot size, premium views, or architectural flexibility face longer days on the market plus higher cancellation rates.
J: What is the problem with selling dated luxury homes?
R: The majority of buyers in today's market are looking for new construction or remodeled homes that have modern amenities from rising luxury real estate trends. Features like a chef's kitchen, open concept floor plan, indoor/outdoor living spaces and particularly with COVID-19, dual home offices with smart home connectivity features are highly sought after. If a home does not possess these modern amenities, they may seem "dated" and result in buyers overlooking them.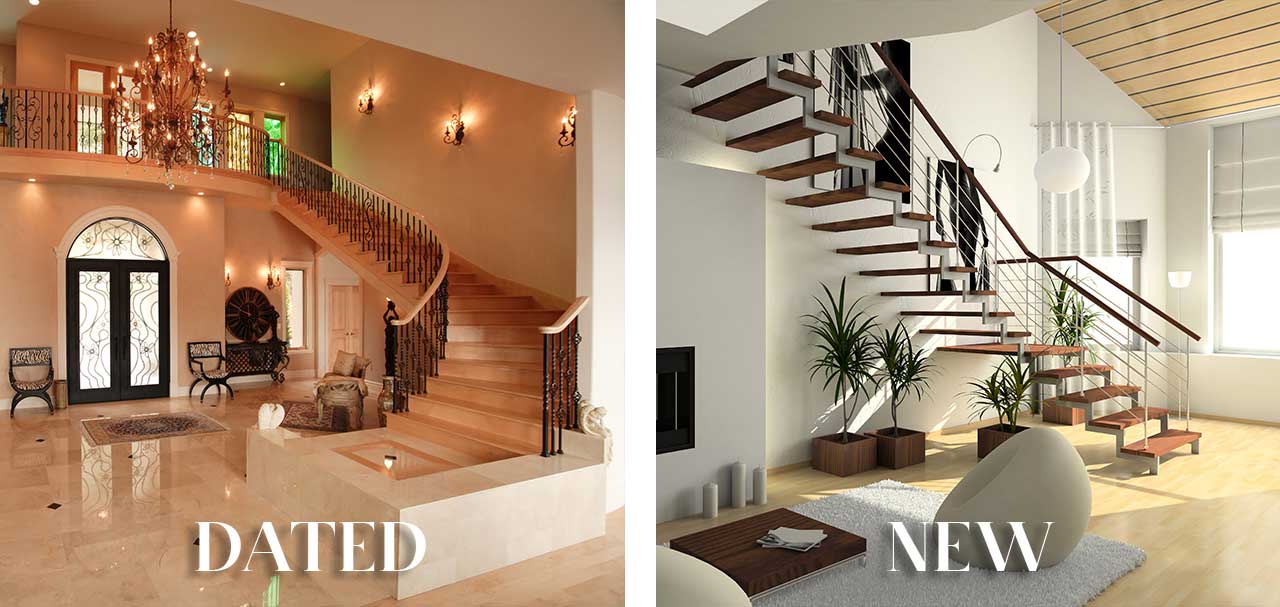 J: How would you advise a dated luxury home seller as a luxury real estate agent?
R: Well, this is where the "dilemma" comes in. The seller needs to figure out if they are willing to do what is required to sell as a "value property" or remodel and make it their forever home. Doing anything in between these two options risks spending money that will not convince buyers to consider the property and may leave the owner with a home that still needs more work to become updated to what they would want for the long term.
J: What exactly is a value property?
R: We would describe a value property as one that has great structural integrity and sits on a valuable lot (ideally with views) in a desirable neighborhood. A value property can be envisioned by the new owners and their design team as a fully updated home.
J: How do you help sellers with a dated luxury home?
R: As a full-service real estate firm, Valley Luxury Partners has both the construction and design experience, along with class-leading marketing, to position a value home in a competitive market. After reviewing the property for structural integrity and seeing what deferred maintenance and improvements will be necessary, a plan will be presented to the seller to consider. Architectural renderings can be created to help show buyers what the property can become with a partial or full remodel.
J: Are there other considerations when dealing with a dated luxury home?
R: The most difficult conversation to have with a seller of a dated luxury home is determining realistic pricing expectations. We are all naturally programmed to feel like our homes are special so if the seller has not been active in the real estate market, they will likely have a skewed view of the value of their property.
J: How do you have these difficult pricing conversations?
R: Honesty is the best course of action for all parties involved; we must try to keep emotions out of the process. This can be difficult, but it is ultimately the seller's decision on how to move forward. Comparable property sales and a high level of local market knowledge can establish a non-emotional basis for setting a realistic listing price for a value property.
J: Do you have any more evidence that the dated home dilemma is actually a factor in selling a luxury home?
R: We recently launched our proprietary Luxury Real Estate Market Analysis. In this report, we define our Luxury Focus Market as neighborhoods in Paradise Valley, Arcadia, Biltmore and North Scottsdale with pricing over 1 million dollars. During our extensive research of the Luxury Focus Market from the last reporting period, North Scottsdale was outperforming other areas in sales. Several factors contributed to this outperformance and the age of the home was a significant factor. In our Luxury Focus Market, six of the top seven sales were fewer than 2 years old, averaging a 95% sale price to listing price. The lowest sale to listing price was a 12-year-old dated architectural style property on the market for 291 days.
J: How can we learn more about these luxury market trends?
R: The Valley Luxury Partners Luxury Real Estate Market Analysis is available HERE and by clicking on the image below.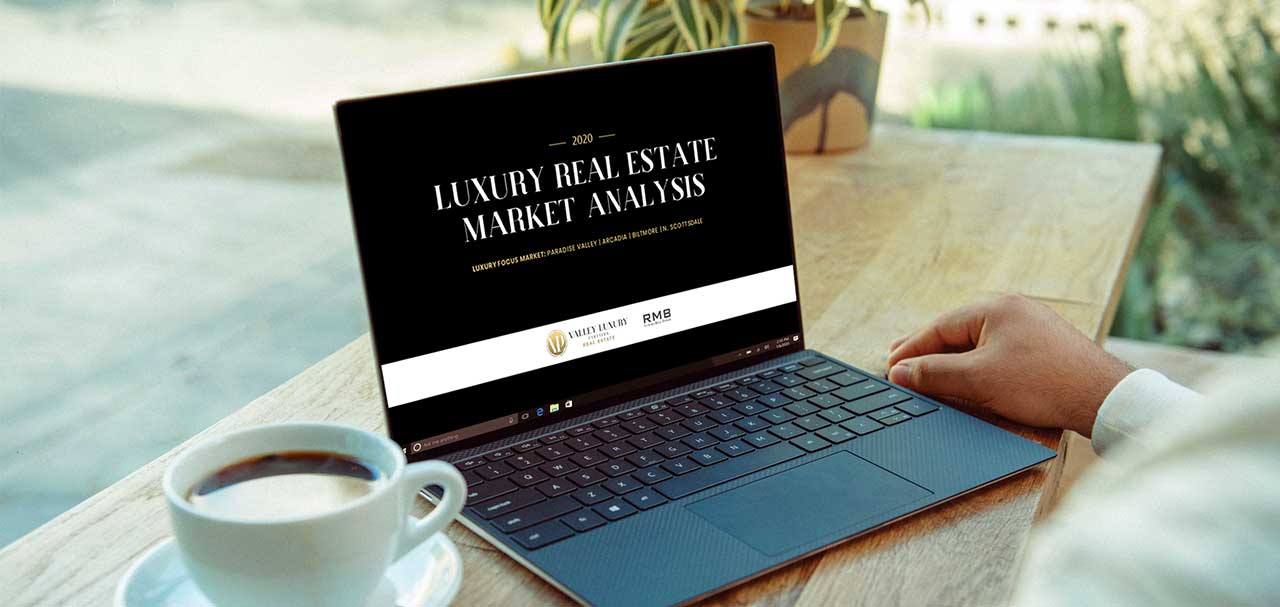 If you're interested in learning more about the dated home dilemma and our "hyper-local" report about exclusive Phoenix communities, contact our team today. We can use collected data to guide you on smart buying and selling decisions for multi-million dollar properties in the Phoenix-Scottsdale area. This knowledge is key if you find yourself questioning how to deal with a dated luxury home in Arizona. After all, from Paradise Valley luxury real estate to North Scottsdale golf communities, it's one of the most sought-after places for real estate investments in the country.